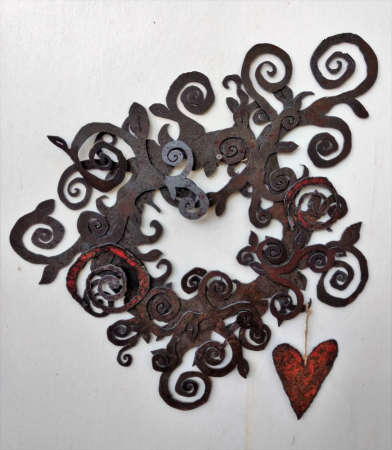 I can't believe it's already time to talk about the Holidays! Well...I might as well embrace it! I love this time of year...I find it inspiring and fun artistically, and I'm looking forward to all the upcoming Holiday shows that I'm involved in...
Nov. 9 - Dec. 24 - The Sudbury Art Association's Annual HOLIDAY MARKET - 29 Hudson Road, Subury MA 01776 - I will have a place once again at the SAA Holiday Market pop-up! With 26 artists participating (many of them new!), it will be a fun and festive place to get some really unique holiday gifts while supporting local artists! Look for my display on the 2nd floor...more information: http://www.sudburyart.com/
Nov. 30, Dec. 1 & 2 - Artspace Maynard Holiday Sale - 63 Summer Street, Maynard, MA - I always love to have some wall space in the main gallery at ArtSpace for their annual Holiday Sale. I've signed up again this year...it's a great place for unique holiday shopping, and a great atmosphere to walk around, have a glass of wine, and go into all the fabulous open studios.
Dec. 8 - Bolton Artisans Guild (BAG) HOLIDAY MARKET - at my home studio art barn at 218 Sugar Road , Bolton - on December 8th, from 11am - 3pm, I'm hosting BAG artists in my Art Barn for our annual Holiday Market! Come enjoy the festive atmosphere, hot apple cider, and support your local artists while shopping for unique holiday gifts!
My Art Barn studio is currently open by appointment...send me a note if you're interested in stopping by!
I'm working on deliveries of new art to all of the lovely stores & galleries that I'm in, as well, for the holiday season:
Avenue C at Eastleigh Farm, Framingham - I have shovels, saws, and my bucket lamps here (and soon I'll be dropping off some ornaments). Great people - and I love their space! They have a lovely selection of artisan wares, vintage goods, and beautiful signs. They are only open on weekends.
Five Crows in Natick - I would recommend swinging by here if you're ever in Natick...a very different group of artists (ranging from a little further outward) but a lovely selection with great variety.
Laurel Grove in Sudbury - another really beautiful shop. I get lost in the rooms (in a good way!) and always buy something when I'm dropping off my artwork.
Nashoba Winery in my hometown, Bolton - As part of the Bolton Artisan's Guild, I have some of my pieces on the walls in the front room where they are selling the wine. It's always fun to stop in here...do a tasting or fill your growler while you're checking out the art!
Periwinkle Glassworks in Acton - this store is fascinating because all of the artists are from a 15 mile radius of Acton! It's actually pretty impressive - and a really fun selection of artwork! There is no lack of whimsy :)
6 Bridges Gallery in Maynard - another easy stop if you're in the Maynard area...it's also focused on local art and there are some really beautiful things here.