Posted
on May 28th, 2020
by Yvette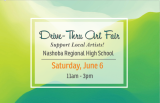 Local artists are hosting a drive-thru artisan fair next Saturday, June 6. With the assistance of the Bolton Police Dept. and Nashoba Regional High School, we are following social distancing protocols to help keep everyone safe while we host this event (masks are required to attend) . You have the option to drive by artists' booths and shop through your car window, or for the people who would like to get a closer look at what we are showing, you can choose to park and walk through the art fair. Please follow the signs and come check it out (while following all social distancing protocols, of course)!
Details:
Saturday, June 6
11am - 3pm
Nashoba Regional High School Parking Lot - (
12 Green Rd, Bolton, MA 01740 )
follow the signs!
Participating Artists (and there may be more than listed here!):
Astrology Heart - Astrology art and collage
Suzy Becker - Covid-19 T-shirts
Janet Butrym - Covid-19 Masks
Tony Cammilleri - Wood turning - bowls, cutting boards and more
Judith Frederick - Sea Glass Jewelry
HML Ceramics - Decorative and Functional Pottery
Me! Babacool Arts - sculpture in metal
Newgrange Farm - Goat milk soap and other artisan crafts
Heather Rockwell - Jams & more
Rob Smith - Hand-crafted furniture
Chris Sterling - Eco-dyed Scarves and Weaving
Dick Underwood - Blacksmithing demos and products