Posted
on September 6th, 2018
by Yvette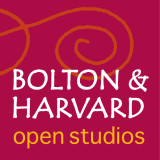 Sept. 15 & 16
-
Bolton & Harvard Open Studios
- Since I had such a successful Open Studio weekend last fall, I had an
artist
friend ask to join me with her studio if I did it again this year. Together, we decided to invite other
artists
as well, and It quickly grew beyond all of our expectations- now we have 32 participating
artists
and it's a destination event! Please follow link above to find out the details, including a map of the
artist
locations. Come out and support our local, small town
artists
, maybe stop at a farm-stand or two, and pick some apples at one or our beautiful local orchards! My
ART
BARN will be open at 218 Sugar Road (Bolton)...just follow my signs (I'm on the map on the above website)! I will have three additional
artists
with me (Fay Senner -
Astrology

art

,
Carol Ehrlich- Fabric
Arts
, and Laura Burke - Fiber
Arts
). I have sculpture throughout my yard, an
art
labyrinth, and my family would love it if you bring your kids (if you have any!). My sons Kai & Renn would love to show them their sheep and chickens...it should be a fun family-friendly event!
Other events I'm participating in:
Sept. 22 & 23
-
The Pro.Found Market
in Lancaster, MA - If you love vintage, you'd love the Pro.Found Market, located on Kalon Farm in Lancaster, MA. It's a great place to hunt for great finds - also for the whole family. Look for my tent!
Oct. 6 & 7
-
Haunted Biz Baz Fair
in Salem, MA. One of my favorite fairs of the year! The energy and crowds remind me of Mardi Gras - but in a spooky, Halloween way! The costumes are amazing. It's a fun place to check out - especially if you love Halloween and want to get inspired for it in early October! I will have a lot of Halloween-themed
art
for this one (sugar skulls, witches, skeletons...)!
Nov. 30, Dec. 1 & 2
-
Artspace Maynard Holiday Sale
- I always love to have some wall space in the main gallery at ArtSpace for their annual Holiday Sale. I've signed up again this year...it's a great place for unique holiday shopping, and a great atmosphere to walk around, have a glass of wine, and go into all the fabulous open studios.
Last but not least - I will once again be participating in the
Sudbury

Art

Association's Holiday Market
- likely to be in the same place as last year (we're a pop-up, so that's assuming the space is available in November and December) in the Sudbury 29 complex. More details to come...and can be found at
www.sudburyart.com
as the time approaches.
I hope to see you at one of the above events!