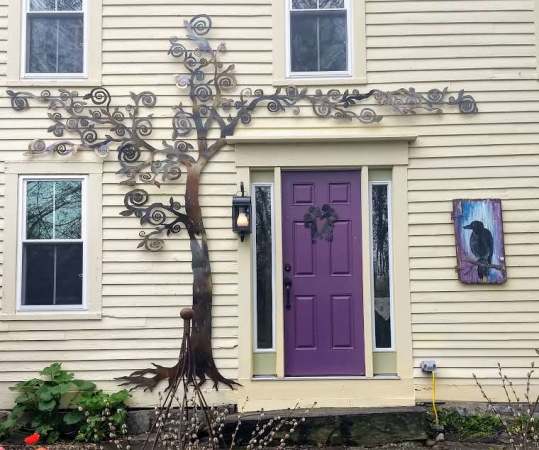 I'm looking forward to a very fun, creative last half of 2019!! Here's where you can find me:
AUG 24 & 25 - The Market at Barn 3 - Eastleigh Farm, 1062 Edmands Road, Framingham, MA; 10-5 both days
SEPT 22 & 23 - The pro.found Vintage Market - Kalon Farm, 339 7 Bridge Road, Lancaster Sat 8:30 - 5, Sun 10-4
SEPT 28 & 29 - BOLTON & HARVARD OPEN STUDIOS - Come see me at my studio in my Art Barn!! I have sculpture throughout my yard, an art labyrinth, and art guest(s)!! Then drive around and see other art studios in the area! 218 Sugar Road, Bolton - Sat 10-4, Sun 12-4.
OCT 12 - 14 - Scituate Art Festival - 554 West Greenville Rd, North Scituate, RI 02857. Sat & Sun 10-5, Mon 10-4.
NOV. 16 - Bolton Artisan's Guild & Friends Holiday Market - in my Art Barn! 218 Sugar Road, Bolton, 10 - 3
November/December - Sudbury Art Assoc. Holiday Market details/location TBD...but I'll be there!
and you can always contact me via email if you'd like to request an appointment to come see me in my art barn!
I also have artwork for sale in the following lovely locations!
Avenue C at Eastleigh Farm, Framingham - I have shovels, saws, and my bucket lamps here (and soon I'll be dropping off some ornaments). Great people - and I love their space! They have a lovely selection of artisan wares, vintage goods, and beautiful signs. They are only open on weekends.
Five Crows in Natick - I would recommend swinging by here if you're ever in Natick...a very different group of artists (ranging from a little further outward) but a lovely selection with great variety.
Laurel Grove in Sudbury - another really beautiful shop. I get lost in the rooms (in a good way!) and always buy something when I'm dropping off my artwork.
Nashoba Winery in my hometown, Bolton - As part of the Bolton Artisan's Guild, I have some of my pieces on the walls in the front room where they are selling the wine. It's always fun to stop in here...do a tasting or fill your growler while you're checking out the art!
6 Bridges Gallery in Maynard - another easy stop if you're in the Maynard area...it's also focused on local art and there are some really beautiful things here.